A joint investigation by ProPublica and PBS' Frontline dug up a corporate culture of rampant neglect, workplace recklessness, shoddy planning, and, well, death.

– Sam Biddle at Gizmodo
The investigation found that major cell companies – including AT&T and Verizon – spend extra money to hide and avoid liability for these deaths through a complex structure of contractors and sub-contractors. This practice is not limited to cell companies – many corporations in industries like coal mining, commercial trucking, waste removal and others try avoid responsibility to their workers and others by using complex schemes involving "contractors", subsidiaries, and shell corporations.
Because of this scheme, not a single major cell carrier is listed on the Occupational Safety and Health Administration's (OSHA's) database of workplace accidents even though 50 climbers have died at cell tower sites between 2003 and 2011.
The death toll increased from 2006 to 2008 as AT&T scrambled to merge its network with Cingular's and increased bandwidth to accommodate the iPhone. AT&T was linked to more fatalities than Sprint, Verizon, and T-Mobile combined.
In an industry that includes outfits known as "two guys and a rope", the same causes show up again and again: inadequate training, defective or inadequate safety equipment, no safety equipment, and lax or no enforcement of safety policies. In more than half of tower fatalities, the workers were "free-climbing", a practice that allows the worker to move up and down the tower more quickly, but detaches their safety harness from the tower and leaving the worker without fall protection. Though strictly prohibited by safety regulations, free-climbing is often ignored by supervisors and often has their tacit approval.
All companies should put the safety and lives of their workers and the public first. There's no excuse for failing to provide adequate safety equipment to men dangling 150 feet or more above the ground. Company's should not be able to play this sort of "shell game" and trying to hide the ball to avoid accepting responsibility for the workers they rely on.
Read More:
(c) Copyright 2012 Brett A. Emison
Follow @BrettEmison on Twitter.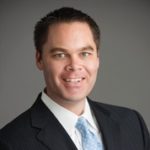 Brett Emison is currently a partner at Langdon & Emison, a firm dedicated to helping injured victims across the country from their primary office near Kansas City. Mainly focusing on catastrophic injury and death cases as well as complex mass tort and dangerous drug cases, Mr. Emison often deals with automotive defects, automobile crashes, railroad crossing accidents (train accidents), trucking accidents, dangerous and defective drugs, defective medical devices.