Capital One is drawing ire and fire from a recent contract update sent to cardholders.  The revised contract permits Capital One to harass customers by virtually any means and at any time Capital One pleases.
From the LA Times:
The company recently sent a contract update to cardholders that makes clear it can drop by any time it pleases.

The update specifies that "we may contact you in any manner we choose" and that such contacts can include calls, emails, texts, faxes, or a "personal visit."

And if that weren't creepy enough, Cap One says these visits can be "at your home and at your place of employment."

The police need a court order to pull off something like that.  But Cap One says it has the right to get up close and personal anytime, anywhere.
The contract update also allows Capital One to modify or suppress its customers' caller ID.
Capital One's new contract may be an attempt to forcibly contract its way around the Fair Debt Collection Practices Act.  The Act restricts what actions a credit card company can take to recover a debt.  For example, section 806 defines telephone calls without disclosure of the caller's identity as "harassment or abuse".  The Act also prohibits collectors from contacting the customer at his or her place of work where the employer prohibits such communications (section 805).
And if the credit card company violates the terms of its contract or the Fair Debt Collection Practices Act, customers may be forced to arbitrate their claim rather than have it heard in a court of law.  In a disappointing 2012 decision, the US Supreme Court upheld binding arbitration clauses.
It turns out that Capital One and some other credit card companies had removed binding arbitration clauses from their agreements after an arbitration scandal.  One of the key arguments against mandatory binding arbitration is that it unfairly prejudices the consumer because of arbitrator bias to the corporation.  You see, the corporation litigates hundreds or thousands of cases in arbitration where the consumer often litigates only one.  If the arbitrator – or the arbitration company – rules too often against the corporation, they are soon replaced.
That appears to be exactly what happened.
The supposedly independent arbitrator National Arbitration Forum, a major provider, was found to have secret financial ties to debt collectors, and decided 94 percent of its cases against consumers.

– Fred Williams, Arbitration clauses on the rebound?
Corporations know the deck is stacked in arbitration and they know the civil justice system – protected under the 7th Amendment – is more capable and more fair.  And while big companies tout arbitration clauses with words, their actions speak louder.  When facing key disputes, big companies go to court, not to arbitration.
These oppressive contracts are just another example of why forced arbitration clauses don't work.  Be careful what you sign.  You might never know what rights you have signed away, just for the privilege of borrowing money on a credit card.
Read More:
© Copyright 2014 Brett A. Emison
Follow @BrettEmison on Twitter.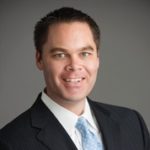 Brett Emison is currently a partner at Langdon & Emison, a firm dedicated to helping injured victims across the country from their primary office near Kansas City. Mainly focusing on catastrophic injury and death cases as well as complex mass tort and dangerous drug cases, Mr. Emison often deals with automotive defects, automobile crashes, railroad crossing accidents (train accidents), trucking accidents, dangerous and defective drugs, defective medical devices.