I use Uber.  I like Uber.  Because I use and like Uber, I was concerned that the person driving me might not be properly insured should something unfortunate befall us on the ride.  As it turns out, it appears that Uber provides good – not great – insurance coverage for passengers and third-parties (other drivers, pedestrians, etc.) some of the time.  As for the driver (all of the time) and the rest of us during those other times… not so much.
What am I talking about?  First, the decent (if not great).
If the driver is en route or actually on a trip with a passenger, Uber provides the following coverage:
$1 million liability
$1 million uninsured/underinsured motorist injury
Contingent collision and comprehensive (up to actual cash value and with $1,000 deductible)
English translation: if there is a crash while on the way to pick up or actually transporting a rider, Uber provides $1 million in coverage for liability to the rider or third-party if the crash/injury is caused by the Uber driver.  In the event a third-party causes the collision but lacks sufficient coverage for personal injuries, Uber also provides $1 million coverage.  As for coverage for its driver's injuries or property damage to the vehicle… that's a lot less clear.  Uber says it will pay for damage to its driver's vehicle "if you maintain auto insurance that includes collision coverage for that vehicle."  As I'll discuss further below, that's a tricky issue itself and the driver is unlikely to have any coverage at all for those damages.
Now, the "not so much".
When the app is activated, but no trip has been accepted, Uber provides a modicum of liability insurance "when necessary".  This coverage applies only if the driver's insurance does not (which as I discuss below is likely) and appears to include coverage only for liability to third-parties.  The coverage appears not to cover the driver for personal injury or damage to the driver's own vehicle.
The problem: Uber's insurance is focused on protecting its passengers and third-parties.  The insurance provided does almost nothing to protect the Uber driver (and does very little to protect even third-parties when the driver has not yet accepted a trip).
But wait, it gets worse.  It's very likely that the driver's own insurance policy has be voided by simple act of becoming an Uber driver.
Most private passenger automobile insurance policies contain standard exclusions to limit exposures related to the commercial use of a vehicle.  In reviewing the standard ISO policy, the exclusion reads, "We do not provide liability coverage for any insured for that insured's liability arising out of the ownership or operation of a vehicle while it is being used as a public livery or conveyance."  This exclusion also applied to other coverages, including uninsured motorist and collision.

Uber drivers may be in for quite a surprise in the event of an accident that could leave them personally liable following a valid insurance coverage denial.  In some states, failure to disclose commercial use of a vehicle would be classified a material misrepresentation, subjecting the policy to be void ab initio (from the beginning).

– Uh oh… Uber has some coverage issues [Christopher Tidball at Property Casualty 360]
English translation: When you sign up to drive for Uber, standard exclusions will likely void your typical auto insurance policy leaving you without coverage.
This brings us back to the top: Uber's collision and comprehensive coverage while the driver is en route or actually on a trip is contingent on the driver also maintaining similar coverage.  If the driver's policy has been voided (by his/her becoming a commercial driver for Uber), then Uber's contingent coverage would not apply.  The Uber driver would not be insured for collision or comprehensive damage to the vehicle.
What's it all mean?  If you're an Uber passenger or if you're an unlucky third-party injured by an Uber driver during a trip, Uber appears to provide coverage of at least $1 million to cover your injuries and property damage.  If you're an unlucky third-party injured by an Uber driver between trips, there will likely be only minimal coverage to compensate you for your injuries as the driver's primary coverage is likely to have been voided by working as a commercial driver.  Uber drivers, you're likely uninsured, unless you have notified your insurance company that you drive for Uber and have purchased additional coverage for commercial use of your vehicle.
Bottom line: Uber should increase coverage for its drivers during the entire time the driver is actively using the app.  Uber drivers should immediately contact their insurer to determine if they need additional coverage while driving for Uber.
© Copyright 2015 Brett A. Emison
Follow @BrettEmison on Twitter.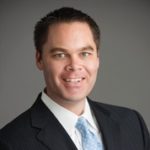 Brett Emison is currently a partner at Langdon & Emison, a firm dedicated to helping injured victims across the country from their primary office near Kansas City. Mainly focusing on catastrophic injury and death cases as well as complex mass tort and dangerous drug cases, Mr. Emison often deals with automotive defects, automobile crashes, railroad crossing accidents (train accidents), trucking accidents, dangerous and defective drugs, defective medical devices.