This Memorial Day, as I have in the past, I ask you to honor our service men and women who sacrifice so much to honor and protect the freedoms we enjoy (and, too often, take for granted) every day. Below is something I've posted before and remains very special to me and my family:
For the past few years, I've asked you to support our service men and women on Memorial Day. Service men and women are all around us and we may not ever know it. One such serviceman was my late father-in-law, Dr. Charles E. Lea, MD. I've re-posted my account of his service before. You can read the original here.
Dr. Lea (or simply Doc or Chuck or Dad or Grandpa) was loved not only for his medical skills, but for his (dry) sense of humor and trademark wit. But most of his patients never knew that "doc" was Lt. Col. Charles E. Lea, a West Point Graduate, proud member of the 101st Airborne Screaming Eagles, Vietnam veteran… and world famous healer of elephants.
Dr. Lea was featured in an AP article for his efforts in healing a village elephant that had been shot by a 716 mm machine gun bullet.
The AP article began: "Quick, doctor, bring your bag. My elephant has been shot."
The AP account described Dr. Lea approaching "with great poise" while his Major "supervised from a distance of several feet, beyond the swing of the elephant's trunk."
The elephant's wound was on the inside of its leg, embedded beneath the hide. The AP reported "[h]e plucked out the slug, cleaned the wound and applied what he hopes was enough antiseptic to kill elephant germs. Khon [the elephant] being restless, the doctor left off the bandage."
In a letter home, Dr. Lea recounted the elephant being annoyed as he worked, throwing grass, dirt, and other debris in his face.
When Dr. Lea returned home from service in Vietnam, his home town newspaper, The Brunswicker, caught up with him and asked about the elephant incident. According to the report, he related the story "almost painfully." He explained that a trained elephant was a very valuable thing to a Vietnam village. It took about "10 years to get an elephant to do what you want him to do. A trained elephant in Vietnam is a village project, worth about 5,000 American dollars [more than a Corvette at the time]."
The civil affairs office thought it would be good "to show these people we were concerned over the elephant's well being. So we [treated the elephant], and somebody took a picture, and it got to be a big thing."
Explaining it was more for show than anything else, he said, "The bullet didn't have much effect on the elephant – about the same as a bug bite would on you or me. It was somewhat infected, and I stuffed some antibiotic in the wound. The elephant got better in a few days. Probably wouldn't have made any difference if I put anything on it or not, but the natives were impressed and there was much good will and that is what we started out to do."
In telling the story to his children and family decades later, Dr. Lea was a little more candid. He admitted to firing a few rounds into the mud and pocketing the shells before leaving camp for the village to treat the elephant. He "worked" on the elephant a bit and "removed" the shell (from his pocket) before applying a great deal of antiseptic. It was this kind of ingenuity that made Dr. Lea a great soldier and doctor.
Dr. Lea's medical skills (as opposed to quick thinking and resourcefulness) may not have been required to save that elephant, but his effort placed the United States and his fellow soldiers in high regard in the eyes of that village. His medical skill and work as a combat surgeon did save the lives of hundreds of men on the battlefield during what he later described as "moments of terrified, frenzied activity." In just two days, his outfit handled 11 dead and 97 wounded. In the six months he served as Brigade Surgeon, Dr. Lea supervised the treatment of at least 600 wounded men. Only three died from their wounds.
Dr. Lea was commended by a superior officer as "one of two [surgeons] that I feel has the potential to someday be the Surgeon General of the Army." Doc's skill and bravery earned him numerous medals and citations, including:
After his military service, Dr. Lea chose service as a general practice family physician rather than a more lucrative career as a specialist. His choice allowed him to serve countless families in Oklahoma and Missouri.
After his death in 2008, Dr. Lea was honored on the floor of the United States Senate. Senator Claire McCaskill said:
While we mourn his passing, we are extraordinarily grateful for all that he gave to his community, his State, and his country during his lifetime.

I believe that Dr. Lea is a wonderful example and reminder of the brave men and women who have served our country in the past and continue to serve it today in this time of great need.

***

While awards and commendations obviously show a great deal about a person, I am a believer that the strength of a person's character is revealed in his or her daily actions.

***

As I reflect on Dr. Lea's life today, I am reminded not only of the value of his personal service and sacrifice, but of the committed service and selfless sacrifice of all the men and women who have served this country in uniform. America owes a large debt to all of the remarkable men and women who have served this great nation. I would like to express my sincere thanks to Dr. Lea and his family, and in remembrance of his life and his service, my utmost gratitude goes to all those who have served.
Amen.
Dr. Lea was a hero, my father-in-law, and my daughter's namesake.
This Memorial Day I salute him and others who served our country with courage and honor.
Remember and honor their sacrifice today.
(c) Copyright 2013 Brett A. Emison
Follow @BrettEmison on Twitter.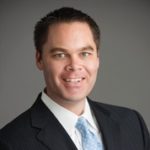 Brett Emison is currently a partner at Langdon & Emison, a firm dedicated to helping injured victims across the country from their primary office near Kansas City. Mainly focusing on catastrophic injury and death cases as well as complex mass tort and dangerous drug cases, Mr. Emison often deals with automotive defects, automobile crashes, railroad crossing accidents (train accidents), trucking accidents, dangerous and defective drugs, defective medical devices.