A federal court has given its approval to a $56 million settlement to resolve a large number of lawsuits involving the Biomet M2a Magnum and Biomet M2a 38 hip replacement implants.  This settlement affects only those patients who have actually had a revision surgery to replace the defective Biomet implant with another artificial hip or artificial hip component.  Plaintiffs without revision are not eligible for the settlement and have had their cases placed on a separate docket.
Important Deadlines: To be eligible for this settlement, you must have your case on file on or before April 15, 2014.  In addition, you must provide a completed fact sheet by June 13, 2014.
This Biomet settlement follows a $2.5 billion settlement involving DePuy ASR hip implants and a number of settlements of Stryker Rejuvenate and Stryker ABG II hip implant systems.
These Biomet artificial hips are part of a larger group of hip implants known as metal-on-metal hips.  Metal-on-metal hips are made by a number of manufacturers.  While each MoM hip system is slightly different, they each suffer from a common defect: the metal on metal components grind together causing toxic metal particles to leach into the body.
As the New York Times reported in 2011, the results of the defective hips are gruesome:
"As surgeons here sliced through tissue surrounding a failed artificial hip in a 53-year-old man, they discovered what looked like a biological dead zone. There were matted strands of tissue stained gray and black; a large strip of muscle near the hip no longer contracted."
The Times cited a New England Journal of Medicine study that found that metal-on-metal artificial hips failed at 3 times the rate of other artificial hips.
There are claims currently pending against a number of manufacturers:
DePuy Pinnacle – US District Court, Northern District of Texas (Dallas Division), MDL No. 2244

Biomet M2A Magnum – US District Court, Northern District of Indiana (South Bend Division), MDL No. 2391
Wright Conserve and Wright Profemur Total Hip Systems – US District Court, Northern District of Georgia, MDL No. 2329
Smith & Nephew R3 Acetabular System and BHR (Birmingham) Total Hip Replacement
Under the terms of the Biomet settlement, the company will pay a $200,000 base award to plaintiffs who suffered a metal-on-metal hip failure more than 180 days after implantation.  Like the DePuy ASR settlement, Biomet plaintiffs may be subject to a reduction of the base award depending on the number of years between the original implant and revision surgery.  However, there will not be reductions based on age, BMI, or tobacco use (smoking).  Participants may also qualify for enhanced awards for extraordinary injuries through a mediation process.  Enhanced award injuries include re-revision, dislocation, and other serious complications.
Some cases may be limited to a presumptive $20,000 minimum award.  These cases include:
revisions involving Biomet M2a devices other than the 38 and Magnum
hip failures that occurred less than 6 months after implantation
revisions occurring more than 10 years after implantation
Biomet Magnum and 38 devices that were implanted as a revision device
cases in which the plaintiff died prior to settlement from causes unrelated to the defect or revision surgery
The settlement claims will be processed within two different groups.  Group 1 participants will include those plaintiffs with completed fact sheets submitted by December 31, 2013.  Group 2 participants will include all other plaintiffs with fact sheets submitted between January 1, 2014 and June 13, 2014.  Biomet will fund the settlement proceeds once 90% of plaintiffs have accepted the settlement agreement.    Biomet will fund the cases in mediation after 67% of those plaintiffs have accepted the agreement.
Langdon & Emison currently represents a number of plaintiffs eligible for the Biomet hip settlement.  Feel free to contact us with questions about the settlement.
Read More:
© Copyright 2014 Brett A. Emison
Follow @BrettEmison on Twitter.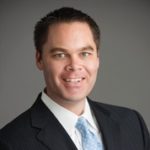 Brett Emison is currently a partner at Langdon & Emison, a firm dedicated to helping injured victims across the country from their primary office near Kansas City. Mainly focusing on catastrophic injury and death cases as well as complex mass tort and dangerous drug cases, Mr. Emison often deals with automotive defects, automobile crashes, railroad crossing accidents (train accidents), trucking accidents, dangerous and defective drugs, defective medical devices.